Our third board of WSPV Allegra, September 2017 – August 2018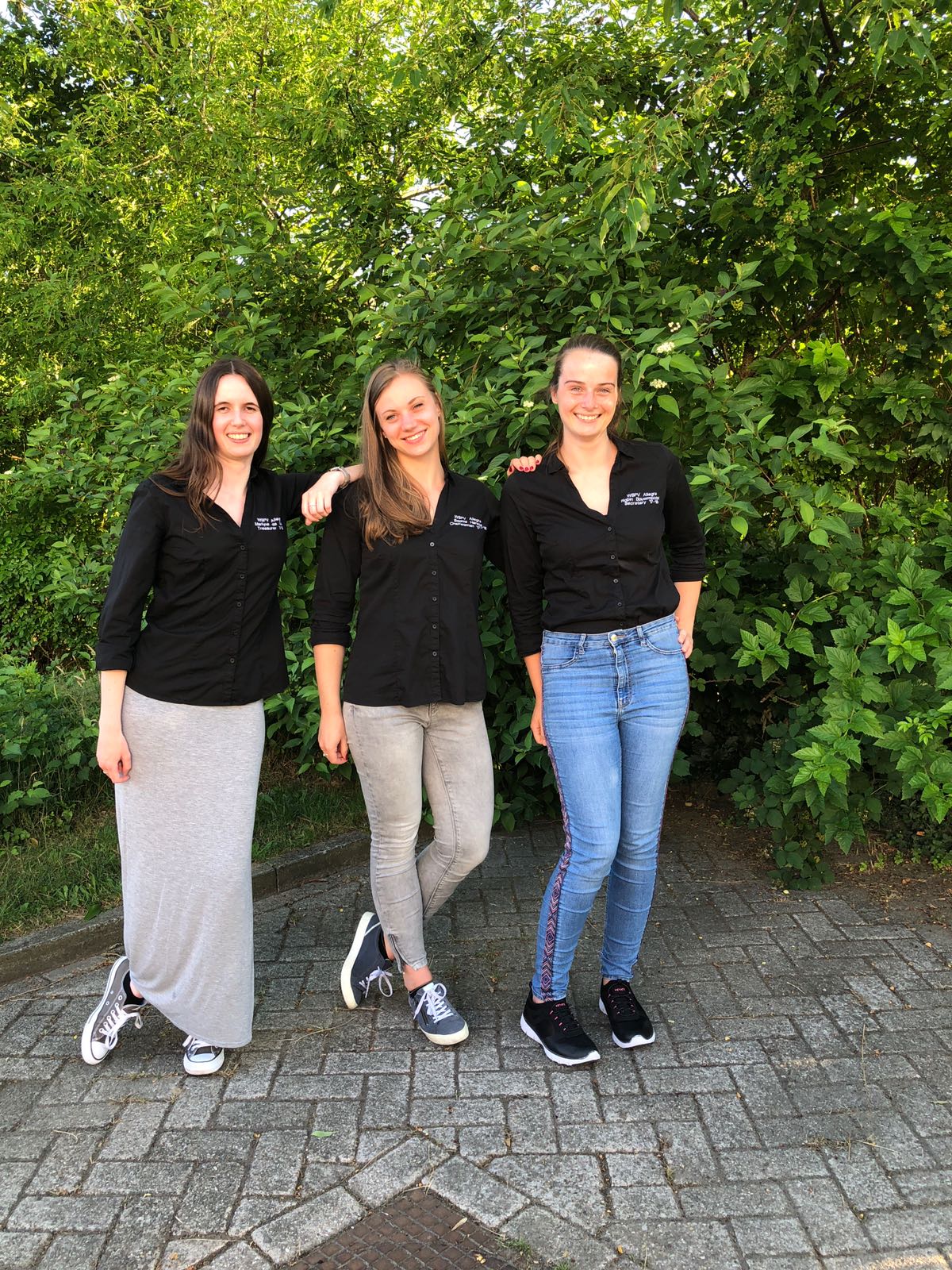 Sophie Herwig – Chairwoman
Hi! My name is Sophie and I am your new chairwomen for the coming year! I am 20 years old and currently I am in my third year of the bachelor Economics and Governance. I have always loved doing handstands and see the world from another perspective (that's why I practice handstands a lot). So, when I started pole dancing last year I immediately fell in love with the sport. I also do some vaulting in my weekends, which I best can describe as: doing acrobatics on a real horse. Last year, I joined different committees at Allegra and being chairwomen would be a new challenge for me. I really look forward to the coming year!
Marlijne de Graaf – Treasurer
Hey! I'm Marlijne, 22 years old. This year will be the second year of my master Nutrition and Health, in Wageningen. Before this I studied Nutrition and Dietetics in Nijmegen for 4 years. When I moved to Wageningen a year ago I decided to try pole dancing during the AID, which I liked way more than I expected. So after a few months of pole dancing classes, I joined Allegra. I think pole dancing is a great work-out and I'm really excited to learn new moves this year. And since I love being an Allegra member, I decided to challenge myself a bit more and join the board as treasurer!
Robin Bouwmeester – Secretary
Hi there, I'll be your secretary for the year to come! Let me introduce myself; My name is Robin, I'm 20 years old and starting on my second year of the bachelor Nutrition And Health. This will also be my second year as an Allegra member. Pole dancing has so far been the only sport I've ever loved, maybe because you can start without a lot of strength or flexibility, and with a lot of dedication you'll just learn it along the way. I love to make other people enthusiastic about our beautiful sport, so to promote Allegra more and give more workshops is definitely one of my goals for this year.
Our second board of WSPV Allegra, March 2016 – August 2017
Lisa Weijers – Chairwoman
Hey! I 'm Lisa Weijers , 21 years old. I am now in the second year of my master's in Wageningen : Earth and Environment . For this I studied in Utrecht for 3 years. Ever since I came to Wageningen I finally got a chance to develop myself in sport. This started with fitness and trying out a course here and there, but it has become a love for pole dancing. Why I became chairwoman? First, I was quickly very enthusiastic about Allegra and its members. In addition, I always find it interesting to be involved with what is happening within an organization and I like to look for ways to make everyone happy. Please do not forget to contact me if you have any question or ideas about Allegra , I 'm always open for input!
Sanne de Rijk – Treasurer
Hey! I'm Sanne, 24 years old. This year I'll start with the second year of my master Animal Sciences, of course in Wageningen! I started with poledancing about 3 years ago in Leeuwarden (north of the Netherlands) and when I moved to Wageningen for my master I was very excited to discover that WSPV Allegra existed! First I did a couple of courses poledancing on the Bongerd and after that I joined Allegra because I really liked the fun and training together. Becoming treasurer was the next step for me, I enjoy being involved with the association. Now Allegra is in my blood and I'm always looking for ways to make Allegra bigger and even more fun! For me, the fun part of my function is that I, next to the financial part, have plenty of space to do stuff that I really enjoy. If you have any questions or cool ideas for us, let us know. And of course also if you like to help with building our association.
Our first board of WSPV Allegra, May 2015 – March 2016

Fleur Hoorweg – Chairwoman
Nadine Buntinx – Treasurer
Carlotta Weibl – Secretary
Thanks to the committment of Fleur, Nadine and Carlotta Wageningen got its own student pole association. The academic year 2014/2015 brought about big changes for WSPV Allegra. Even though the trainer at that time had left before the start of the academic year, a small group of students remained dedicated to continue training poledance in Wageningen. By training together they learned tricks from each other and they formed a close group by getting to know each other as well as the sport. Striving for more possibilities the girls thought about ways to bring one of their favourite sports, pole dancing, to a higher level by the help of a new trainer and additional training hours. Furthermore their interest grew in creating space for extra activities such as additional workshops and dinners. That is how the idea developed to start a student sports association (SSV) for poledancing and the girls from our initial board started the process to realise this.  They started the formal matters and looked for a new trainer. After continuous effort they finally succeeded with establishing guided trainings, but further taking the next steps in becoming a SSV. On the 12th of May 2015 these girls signed Allegras statutes, after approval of Thymos Allegras existance as a Wageningen student sports association is official. Thanks to Fleur, Nadine and Carlotta we are now the "Wageningse Studenten Paaldansvereniging Allegra"!