Allegra membership
The allegra membership is a complete membership. There are currently only 48 spots in the association for an allegra membership. This is due to the limited accomodation provided, and as we want to conserve the quality of the membership, we do not accept more people than we can put in the member hours. An allegra membership includes: a spot in the member hour, the possibility to receive mentor training or train independent, join workshops and social activities. With a allegra membership you are guaranteed to have at least 1 hour of training with a trainer from the Bongerd.
---
Hammock membership
The Hammock membership is our alternative type of membership. Due to limited accommodation provided by the Bongerd we can only offer training in the member hour to a set amount of members. Currently we have a first come first serve system. If the member hour is full, or if you know you cannot make it due to the inconvenience of the hours, you can still pole dance by the Hammock membership.
What can I do with a Hammock membership? Almost everything! Just not the member hours. But you can enroll to mentor training or independent training, our social activities and our workshops.
Why is it called a Hammock membership?
Because it is not just just a "waitinglist-member" and also not a "half-membership" we wanted a unique name. Hammock is something you can sit or lay in, so it does represent that it's not full participation membership. However, Hammock is also a pole dance move, just like Allegra! Some people also know the move as the flat liner. If you do the Allegra, you often first do a Hammock!
Why does Allegra need Hammock members?
Member growth helps Allegra a lot! The amount of training hours which we get is based on how many members we have, therefore we want to offer you that you can be on a waiting list with still a lot of benefits. Being a Hammock member ensures that in the future we can have offer more member hour training! So if you are thinking "I'm only becoming a member if they get more hours", please consider already becoming a member so that we will actually get more hours. To become a Hammock member, click here.
---
Costs of a membership

The cost of a membership is given in the table below. For a Hammock membership, you pay a reduced membership fee.

---
Membership benefits
As a member of Allegra Poledancing, you can enjoy social activities, training with friends, learning a lot from each other, and having drinks after training. Nothing is compulsory, so you are free to join when you want to.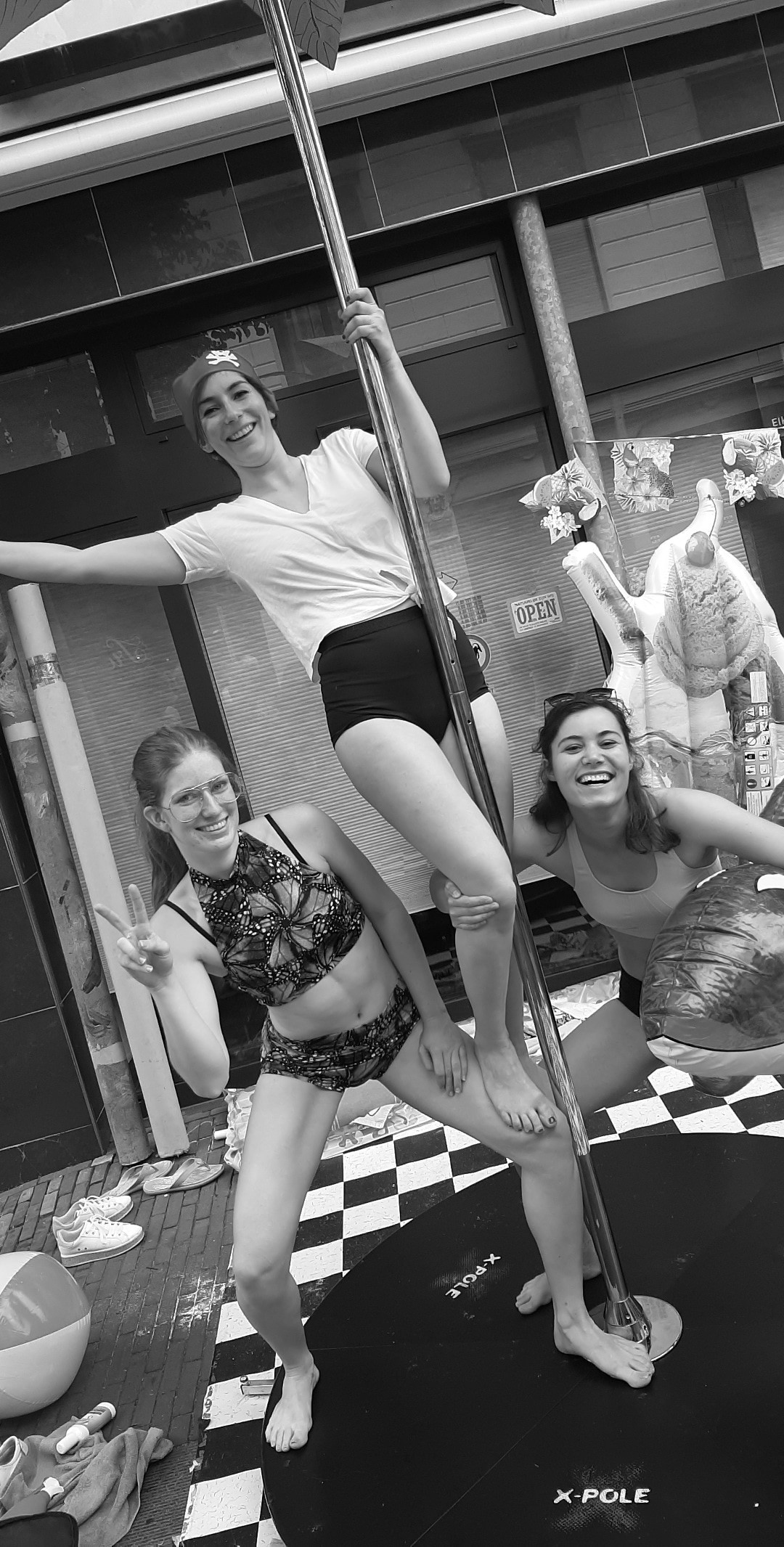 Members can train during the member hour, during which you can learn new tricks or work on mastering other moves. Our teacher will be there to help you, but you can also ask a fellow member for help.
Whenever you feel like practicing your favorite trick, or want to try out some choreography, or want to do anything else you didn't get enough time for during classes, you can do independent training (in case you are on the appropriate level. See "Mentor training & independent training".) You need to have enough experience (to be judged by our teacher) and be together with 2 or more members. Whenever the room is free, you can meet up with some members and do some extra training! If you want to know some more about the required level or the logistics behind these trainings, don't hesitate to ask the board or our teacher!
As a member you can also join a workshop, give a workshop, or join fun activities throughout the year. A few examples of our social activities include: After training drinks, Sinterklaasavond and the annual Thymos Gala. And of course the annual member weekend, which will be a fun-packed weekend which will help you to get to know your fellow members.
Performances are a part of pole dancing and with Allegra, you can! Not everybody wishes to join a performance, but if you want to try it, you are very welcome to. You don't need years of experience to join, with some practice you can already make a pretty routine with some easy moves. Allegra usually preforms at the AID, but also in other events in Wageningen like LEEF and Night of the Tip.