Getting started with pole dancing can be difficult and challenging, but many pole dancers also think that learning the first moves is incredibly fun. This is why Allegra Poledancing wants to offer a bit more to beginners than the normal Bongerd classes (which are hard to subscribe to, due to popularity) and the normal member-hour (which has a mixed level).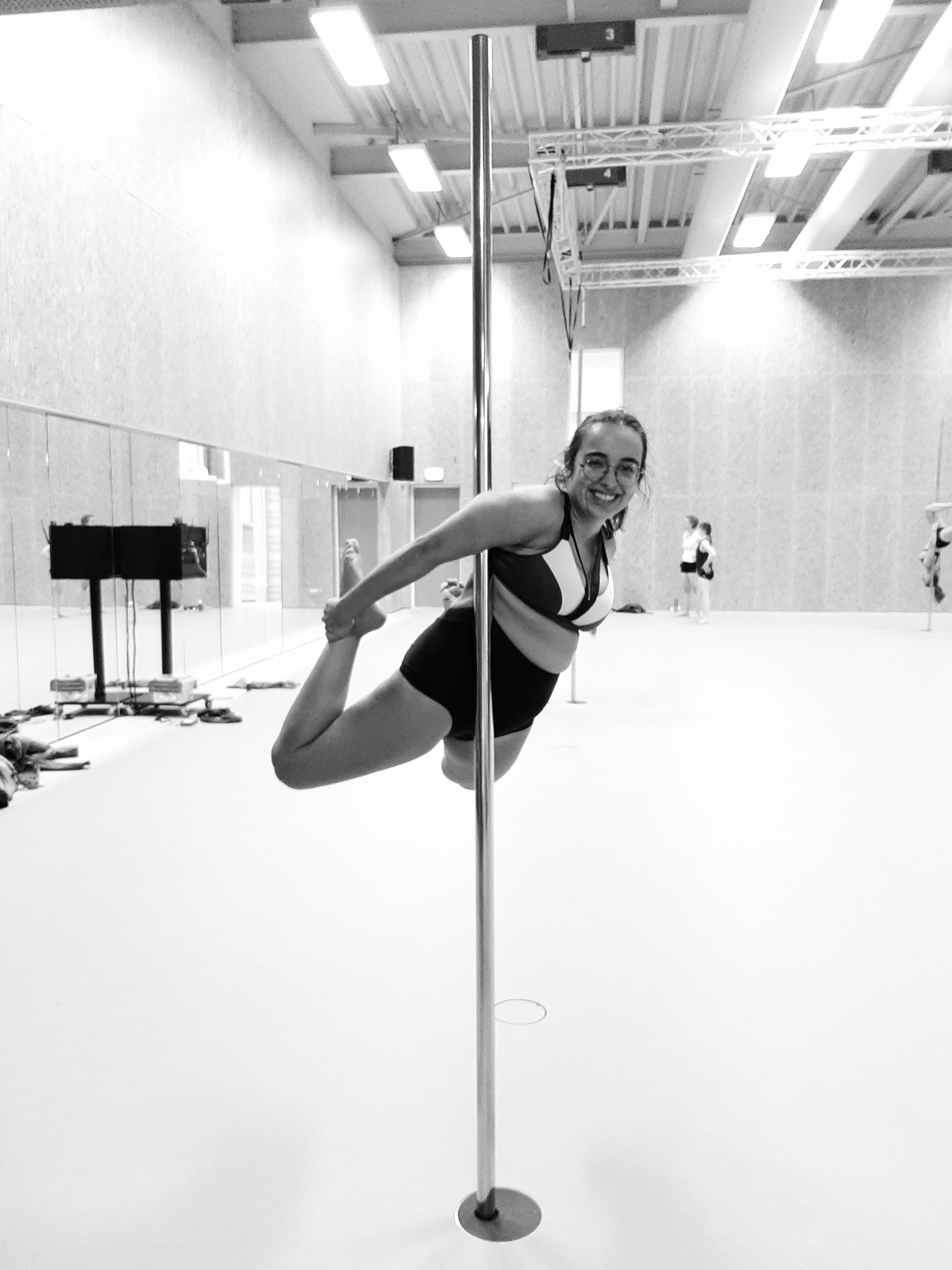 Within Allegra you can ask for training by a mentor. Mentors are all experienced members of Allegra who have followed a workshop from our teacher so they know how to teach you some basic tricks! Right now we have a mentor hour at Sunday from 14:00 until 15:30, which is organised by the board. You will train with a maximum of three people per pole and a mentor. The goal will be to learn the moves which are required for independent training at the Bongerd. So ideally, you will train with a mentor as long as you need to, until you can safely participate in independent training. This level is called the Level 1. A sheet for this and the follow up level can be found at the bottom.
You can also train together with a mentor if this person has a pole themselves. This way you can train in your own time.
If you have a friend who is also interessted and wants to try out poledancing, you can bring this person with you for a trial lesson. You can try out once, if: you notify the board at least 48 hours in advance that you will bring someone, so we can see if there is a place left, because our own hammock and Allegra members get priority of course. You can notify us by email via allegra.paaldansen@wur.nl. Please send us your full name and your WBA number!
---
Step II: Independent Training
As a member of Allegra you can apply for training independently. This is only possible if you have reached what we call the reference level. This is because pole dance can be a risky sport, so we want to make sure only sufficiently experienced members can train without supervision. If you have reached the right level, let the board or teacher know so we can get you a form and find a moment to let our teacher test your skill.
The benefit of independent training is that you aren't restricted to the availability of normal hours or the teacher. This can be nice when you need more hours to improve your skill, if the teacher is sick, if you want to do a performance or join a competition, if you cannot make it to one of the normal trainings… It opens up much more training moments!
You can do independant training if:
You agree with the terms and conditions on the safeguard agreement form
You are with at least 3 members in the training and everyone is allowed to train independantly
You are able to perform the moves listed on the safeguard agreement form for level 1 or level 2
Because we want to give the more advanced people, who want to train more often, the opportunity to train independently easier, we have provided a levelling system. If you increase in level, you will be allowed to train with just 2 people instead of 3. Levelling up should be judged by the trainer, and once approved communicated with the board.
When you print the form of the safeguard agreement, carefully write down your name and sign it yourself. Then you should bring it to the class and let Laura sign the form. If you leveled up you should bring the safeguard agreement with the list of level 2 moves, let Laura sign it and hand it over to the board.

The Bongerd also provided four hours for independent training a week, for which you have to sign up via their website. These hours are:

Tuesday from 14:00 to 15:00
Tuesday from 15:00 to 16:00
Thursday from 14:00 to 15:00
Thursday from 15:00 to 16:00
The document with the safeguard agreement for independent level 1 and 2 are below.
Agreement training independent level 1