General class structure
All lessons take place in Room 3 of the Bongerd. A class always starts with a proper warming-up. It is important that your muscles are warm and stretched before practicing pole dance, to avoid injury and to make the exercises during class easier. There will be some exercises to raise your heart rate and some to improve strength. During the class people will make spread among the poles. During class new moves will be introduced in steps and older moves will be repeated to perfect them. The class will be ended with a cooling down, again to prevent injury. The cooling down often also includes stretching to improve flexibility.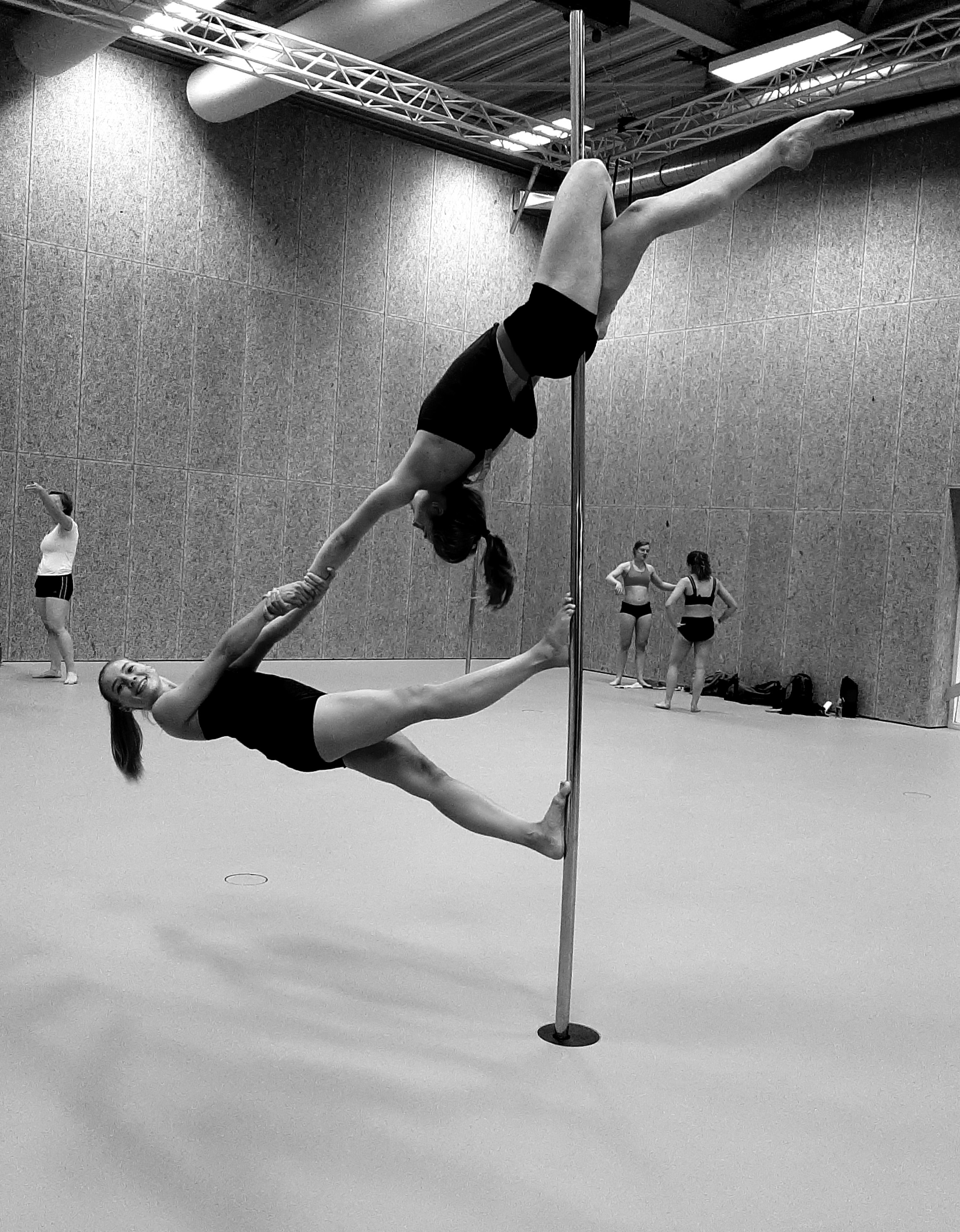 Classes by Sports Centre the Bongerd
Everybody who has sports rights is eligible to subscribe to classes from the Bongerd on their website. It is not compulsory to be a member of WSPV Allegra, but we do encourage everyone who wants to become better to become a member. The classes are part of a course, so you always subscribe for a set of classes, once a week.
The beginner course is 4 weeks and starts at the 1st and the 5th week of a period from WUR. The Advanced course is also 4 weeks and starts the 1st and the 5th week of a period from the WUR. The subscription opens one week beforehand, please check the Bongerd website for the time and date. Warning: classes are usually full very quickly.
Beginners Class: Tuesday from 18.30 to 19.30
Beginner Class: Friday from 11:30 to 12:30
Advanced Class: Thursday from 18:00 to 19:00
Allegra Class
During the academic year there will be Member classes from our teacher on Tuesday (19:30-20:30) and Thursday (19:00-20:00). These classes are restricted to members of WSPV Allegra and has a mixed level. The contents of these classes will depend on who attends and what is desired. The training schedule is organized in a google spreadsheet. The link to this spreadsheet is given in the facebook group.