Since September 1st, 2018 the fourth board of WSPV Allegra is officially in place for you.
From left to right: Dewi, Marije, Emma, Lianne, Frederique.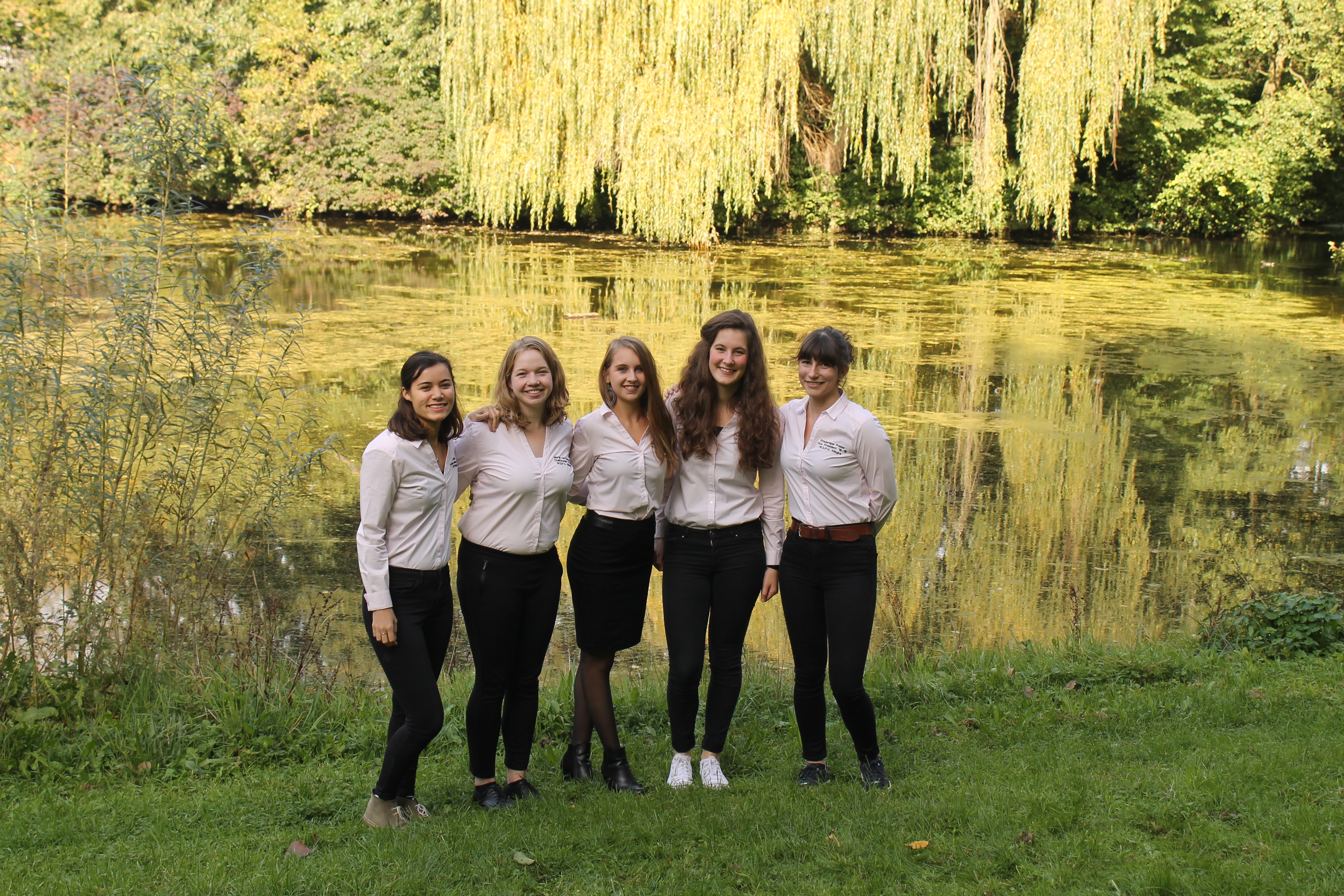 Chairwoman
Hi, I'm Marije van Santen and I'll be the Chairwoman for upcoming year! I'm 20 years old and I'm currently in my second year of the bachelor Spatial Planning. I have never danced in my life before but when I started pole dancing about a year ago, I immediately fell in love with it! Aside from pole dancing I also enjoy other sports, such as yoga, swimming and fitness. In my free time I like to bake and and to play board games with my friends. Don't be afraid to reach out to me if you have questions or ideas you would like to propose. As the chairwoman of the board I hope to be able to contribute to a smooth sailing year full of pole dancing and other fun activities with the members of Allegra!
Vice-president
Hi! I'm Frederique Polder and I will be your Vice-president for the coming year. I am 21 years old and I'm almost finished with my bachelor Biotechnology, and next year I will start my master Biotechnology here in Wageningen. More than 1,5 year ago I started pole dancing at the Bongerd and soon thereafter I joined Allegra. I love pole-dancing so much because of the combination of strength, flexibility and technique. And always remember: 'No pain, no gain!' Furthermore I like fitness, running and taking naps on my wonderful couch. Vice-president is a new function introduced in the board of Allegra, so the new board is given the opportunity to fill this in according to our own perspectives. I would like to be a point of contact for our members, and help them if they face problems or have any suggestions for the association. I hope to learn a lot and I am really looking forward to the coming year!
Commissioner Committees
Hi! I am Dewi Spenrath and I will be upcoming year's Commissioner committees. I am currently finishing my bachelor international development studies and next year I will start with the master sociology of development. I became a member of Allegra two years ago and I have been loving it ever since. Next to pole dancing I also love to dance, when going out with friends or just at home, that doesn't matter. The commissioner committees is also a new function within the board, so I am not yet sure what to expect. But I will do my best and use the little experience that I have gained with the activity committee of Allegra a year ago. For this upcoming year, I hope to offer many fun activities over the next year. You can always contact me if you have a suggestion for an activity or if you have any questions.
Treasurer
Hi! I'm Lianne Remie and I am very excited to be your new Treasurer next year! I am 21 years old and currently in the first year of my master Nutrition & Health. I always loved to dance and to try different kind of sports, but I actually started with a beginners course pole dancing at the Bongerd more as a joke than a serious intention 😉 However, it turned out that I really like the combination of flexibility, strength, dance and lots of fun and I became a member of Allegra almost a year ago! In my free time I like to chill with friends, cook new recipes, be outside in the nature or do some Singstar sessions with my roommates. Thereby, I always loved to be active in committees of my study association and last year I also joined the accounting committee at Allegra. Next year I will therefore join the board as treasurer and I hope to learn a lot about Allegra, keep the association financially healthy and of course have a good time with all the members!
Secretary
Hello, my name is Emma Koning and I will be your new Secretary. I'm from Uden, 19 years old, and I'm a first year Plant Sciences student. I've danced basically my whole entire life, but this year I thought it was time for something else, so in february I joined Allegra and i'm in love with the sport! Furthermore I do a lot of other sports at de Bongerd and I'm also a big cooking lover, so I cook a lot for potlucks and organize these events myself . By joining the board I aim to learn a lot more about Allegra and it's members and challenge myself a bit. I hope this will be a great year for Allegra and that, at the end, we can proudly look back at the things we have achieved.